The collaborative monthly convening of programs which have food pantries or provide free meals for those in need in Tehama County. Approximately fifteen nonprofit and religious groups participate. During the meetings, the scheduling of food distribution and meals is arranged to avoid duplication.
Through the efforts of Food Share, there is a sharing of information, food and equipment.  Upcoming major community events are discussed,  sharing of food products is frequently arranged, and tables and chairs are loaned as needed.  For example, if one program has an excess of bakery products, they are shared with other programs.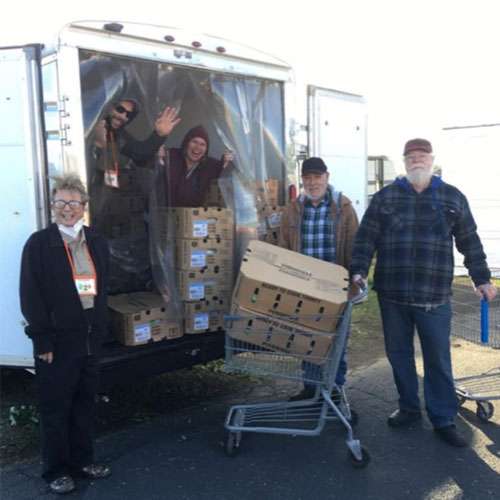 Farmers Market Voucher Program
When financial resources allow, twenty five dollar vouchers are provided to community members for the purchase of food products at a farmers market.  This program not only helps families in need, but also supports our local farmers.  Approximately 200 vouchers were distributed at the Red Bluff year-round Saturday market during 2020 to those families who made prior arrangements by contacting 211.
Directory of Food and Meal Providers
To provide members of the community in need of food and meals, Tehama Together maintains a directory of service providers, including locations, distribution times and types of services. 
Distribution of Funds and Food Donations
Turkey and ham giveaway: Since there were major distributions of USDA and Feeding America food products, Tehama Together provided thirteen food pantries with turkeys and hams for distribution to clients during Thanksgiving and  Christmas 2021.  Approximately two hundred turkeys were provided at Thanksgiving and again at Christmas.